Have you ever seen the effects of a chemical, and said to yourself, "Wow, this could be great for me!", but are reluctant because of the noticeable peeling effect of the skin? Well, what if there was a way to reap all the benefits without the harsh chemicals, itchiness, and crusting.

We can afford you with this luxury at Balsam Spa, along with other services such as microblading, waxing, threading, and laser hair removal in London.
What is a chemical peel?
A chemical peel is a cosmetic treatment that can be performed on your face, neck, back, chest, hand other places where you suffer from skin blemishes such as acne, wrinkles, fine lines, and hyperpigmentation. As the name suggests, chemicals are used to peel away the top layer of the skin, revealing a brighter, smoother complexion. 
What happens during and after a chemical peel?
Before your peel, the aesthetician will cleanse your skin then apply the chemical solution to the area. After about 10-20 minutes, you'll start to feel a stinging or burning sensation. The intensity of this will vary based on the sensitivity of your skin, the type of peel used, and the depth of the scar but it shouldn't be unbearable.

A peel can last anywhere from 30 minutes to an hour and a half, after which you will be advised to avoid sunlight and picking the scabs, use gentle cleansers and moisturizers and perhaps even receive a bandage. For the week or two, your skin will blister and the top layer will fall off, revealing the fresh layer underneath.

Pros:
Smoother skin

Reduced appearance of blemishes

Brighter complexion



Cons:
Possibility of reactivating cold sores

Patchiness on dark skin



Green Peel Facial
What is a Green Peel Facial?
The Green Peel Facial Up is an alternative to traditional chemical peels. This method exfoliates the skin using an all-natural blend of herbs that brightens, lightens, and evens the skin tone.

Green Peel Facials come in three strengths, and the one that is performed by your aesthetician will depend on the condition of your skin.

Green Peel Fresh Up
The Green Peel Fresh Up is the mildest of the three and is used for dull, tired skin and mild hyperpigmentation. It's great for persons with mild to moderate skin blemishes who want the radiance of a peel, without the peeling, and helps to prevent signs of aging.

Green Peel Energy
Green Peel Energy is used to bring back youthfulness to aging skin by stimulating blood circulation, boosting cell metabolism, and reducing the appearance of skin blemishes. This peel rejuvenates the face, without the peeling effect and works great on the body to lessen the appearance of cellulite and stretch marks, and to tighten the skin.

Green Peel Classic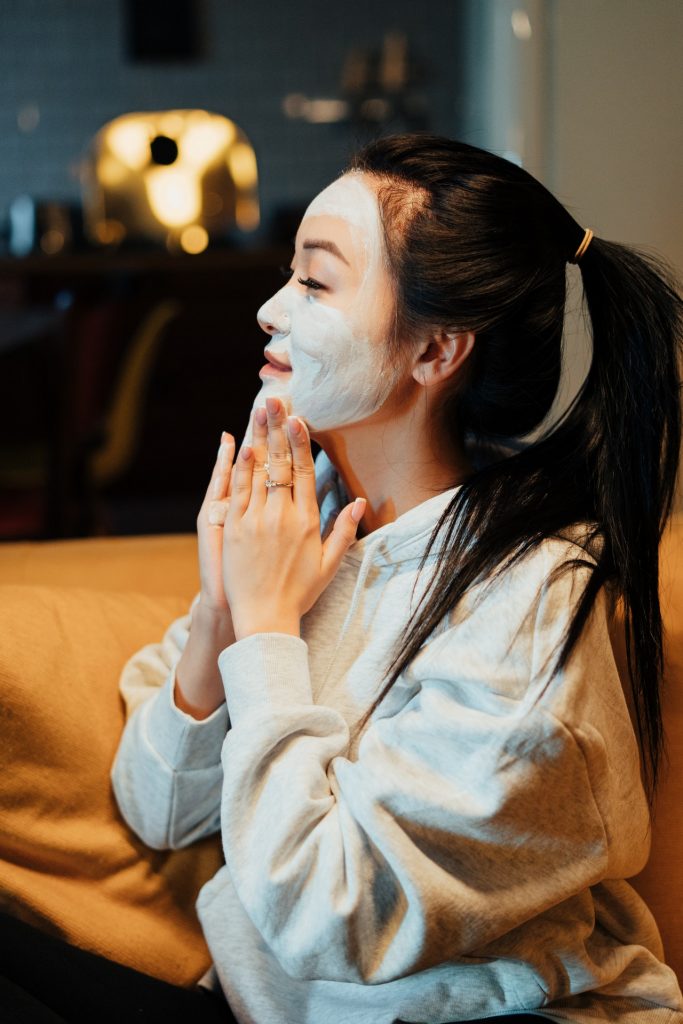 The Green Peel Classic is the most advanced version and is perfect for persons with severe blemishes and skin conditions such as large pores, sun damage, hyperpigmentation, acne scars, wrinkles stretch marks and loss of elasticity. You will experience flaking and peeling with this option, but it is guaranteed to give the best results.

How is it different from a chemical peel?

The differences between a traditional chemical peel and a Green Peel Facial at Imaan's Studio are
There are no chemicals involved, only natural ingredients 

It's great for sensitive skin

There is little to no noticeable peeling

It can be used on darker skin without patching



What happens during and after a Green Peel Facial?
The process for the Green Peel Facial is similar to that of a traditional chemical peel, however, you may notice that the aesthetician may not wear gloves. This is because the herbal mixture is much gentler on the skin. 
The skin will be covered with a compress to allow the ingredients to be absorbed into the skin for about 20-30 minutes. It will then be removed and the skin moisturized.

After your peel, you'll be expected to follow the instructions of the aesthetician by not getting your face wet or using harsh chemicals. By day 2 or 3 of the Green Peel Classic, you'll start to experience flaking so try to schedule your peel for a Wednesday if you have to be out and about during the week. After 5 days, follow up for another treatment to remove the excess skin and rehydrate.
Pros:
All the benefits of a chemical peel

Gentler on the skin

 All-natural ingredients



Cons:
May require multiple sessions  

May not be as effective as a chemical peel for certain skin conditions