Who doesn't want to look eternally young and glowing?
We all want to look good so we put so much investment into our skin. We buy expensive skin products and make ups, take supplements, and even go to different skin treatments just to achieve a gorgeous complexion.
But did you know that you can have healthy and glowing skin without having to spend most of your paycheck?
Simply follow these simple yet effective tips to look immaculately fresh and radiant.
1. Keep stress in check
When we're stressed, our body releases a hormone called cortisol. This hormone is like the major nemesis of your skin – it makes your skin dry, causes break out and even expedite the formation of wrinkles. You sure don't want to look 45 years old when you're only turning 30.
So how do we combat the production of cortisol?
Keep your stress level in check. Though we can't control everything that causes our stress – our overprotective partner, naggy boss, and even toxic friends – we have full control on how we react to it.
When you feel that your stress level is about to reach the ceiling, stop for a few minutes and breathe deeply. Deep breathing relaxes your body and keeps your composure. Do whatever that works for you in keeping calm. Does listening to hard rock music keep your sanity? Go and hit that max volume of your playlist.
Take a conscious effort to smile and laugh, no matter how stressful the situation is. Having a good sense of humor is a sure way to fight the stress away.
2. Perform exercise for your face
When we want a toned and fit body, we exercise regularly such as performing indoor rowing machine for fitness.
If you want a natural way of reducing your wrinkles and firming the muscles on your face, doing facial exercise is your perfect solution. Also called the facial yoga, these exercise works on the 50 muscles in your face to achieve that radiant and younger looking skin.
3. Slather on the sunscreen
When we think of summer, we think of the beach, sunbathing, swimsuits and sunscreen.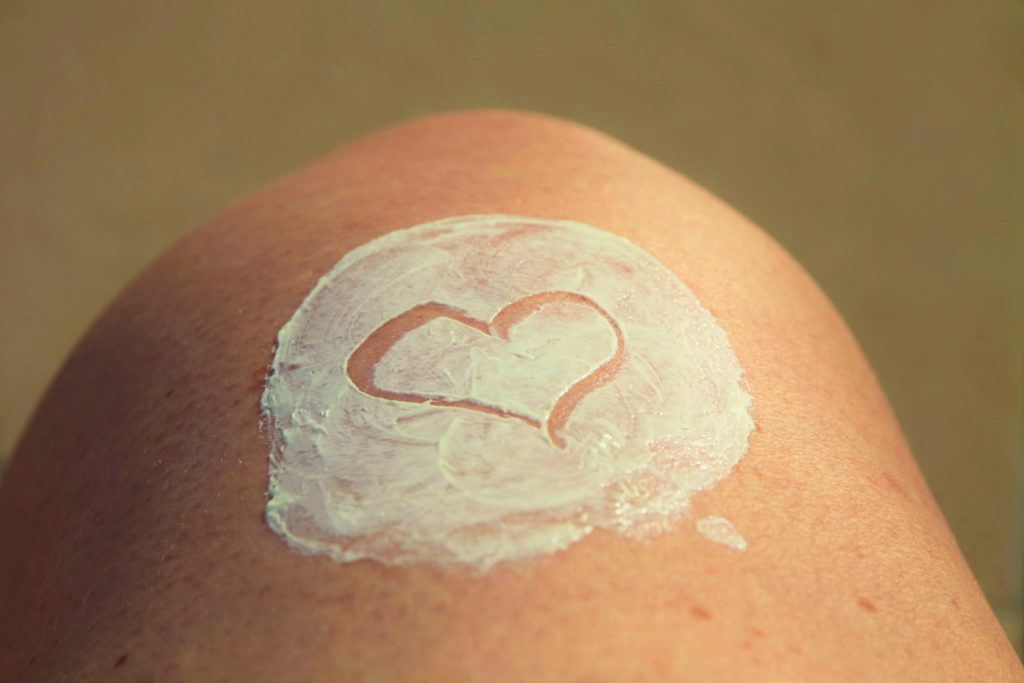 The use of sunscreen though should not be limited to summer season only. If you want your skin to look young, you should wear sunscreen all the time, no matter what the season is.
Here are the reasons why you should be wearing sunscreen:
Protects your skin from the harmful damages of the sun.
Prevents premature aging.
Lowers your risk of skin cancer.
Prevents excessive tanning and sunburn.
Prevents wrinkles, dark spots, and fine lines.
When choosing a sunscreen, choose a product that has a minimum of 30 SPF.
4. Eat foods with antioxidants
Can you eat your way to a younger looking and beautiful skin?
The answer is a big yes.
Eating foods that are rich in antioxidants are proven to slow down the signs of aging and give you a healthier, glowing and more youthful skin.
These are the foods that are known to be rich in antioxidants: wild blueberries, goji berries, pecans, dark chocolates, elderberries, artichoke, cranberries, kidney beans, cilantro, and blackberries.
These foods will not only make you look way younger but they can also lower your risk of stroke, heart disease, cognitive problems such as dementia and cancer.
5. Drink plenty of water
Undergoing skin therapy for a youthful glow is not only pricey but can sometimes be ineffective. You may miss some therapy sessions which could jeopardize the effectivity of the whole therapy program.
Switching to water therapy is not only proven to be effective, but it's also cost-efficient. You don't need to break your bank account just to have that ethereal glow.
At the comfort of your kitchen, you have a powerful medium in getting a moisturized skin. Drinking at least 8 glasses of water every day has many benefits not just on your skin but in your overall health as well.
6. Strip off your makeup before bed
You've had a long and exhausting day. As soon as you enter your bedroom door, you just want to plunge yourself in your bed and take a deep sleep.
Sleeping with your makeup on could be the greatest sin that you can do to your skin. Leaving foundation on will clog your pores and trap all the dirt that your face has accumulated for the entire day. If your skin is prone to breakouts and irritations, leaving your make up on overnight is a sure way for acne to have Mardi gras on your face. You can also develop infections if you sleep without removing your makeup.
No matter how dog-tired you are, get up, go to the bathroom and wash the makeup off your face. Remember to use a mild soap or a gentle cleanser to remove all the dirt and makeup away. You'd wake up to a happy skin the next day.
7. Sleep a full night
Not having enough sleep will not only leave you tired and grumpy the next day, but it will also make you look older. Eye bags and under-eye circles are a big no-no if you want to look younger than your actual age. Although, you can always use a good eye cream to help you with this, particularly those that have low doses of retinol and contain bionic acid.
Though it's tempting to stay up late and binge on Game of Thrones marathon, hit the light off early and get at least 8 hours of sleep. Your skin will thank you the next day for giving it ample of time to rejuvenate.
Having healthy skin does not need to be expensive nor complicated. Make these simple tips a habit. You'll be surprised at how much younger you'll look in no time.