Street style fashion has once again regained its well-deserved popularity. Although basic streetwear essentials, such as graphic hoodies and oversized T-shirts, have not been considered a true fashion style for many years, that has changed lately. The fashion style that draws its inspiration from real people and fashion worn on the street has quite quickly become a trend that many are eager to follow. From a number of us that find inspiration under the #streetstyle hashtag on Instagram to many celebrities who have been enjoying streetwear during this fashion month, we can safely say that street style fashion is the one trend for 2020. Here are some ideas on how to rock this style with confidence.
Hoodies and dresses or jeans
As the colder months are approaching, a cozy hoodie becomes one of our favorite items to wear. You can go for an extraordinary and original look and opt for an oversized, embroidered hoodie, such as the ones offered by Inkosi Apparel and wear it over a floaty maxi dress. Pair this outfit with some platform sneakers and a flamboyant, neon backpack. The mixture of romantic and edgy is something that has been seen a lot in the streets of New York and London during the fashion weeks. In case you are feeling a bit more like wearing good, old jeans, the perfect way to go is with a similar, oversized sweatshirt, in a trendy, striking color such as yellow and match it with light, baggy denim jeans. You can then choose to go for either a bit more feminine look and wear white strappy sandals with block heels or go for darker bulky sneakers. This last look is quite unisex, so anyone can wear it and even accessorize it with a beanie and some funky beaded bracelets.
Crop tops and skirts
In this case, we are talking about crop tops that are similar to athletic crop tops. Also, if you are going for a true street style look, opt for basic colors, such as white, black or even the alluring red. The best way to go is to choose a simple crop top that has a distinctive line at the bottom and some cool inscriptions and then mix it with a trendy skirt. You can go from mini to maxi skirts and you also have the complete freedom to choose the patterns and colors. However, it is advised to go for contrasting colors, so, for instance, a black street style crop top will go amazingly with bright-colored skirts. When it comes to footwear, chunky sneakers are the way to go. Another great shoe option is also knee-high, faux leather platform boots, especially if you have decided for a mini or midi skirt. To add a bit more of an edgy vibe to this look, we suggest wearing black, distressed tights with your skirts.
Long-sleeved T-shirts and distressed jeans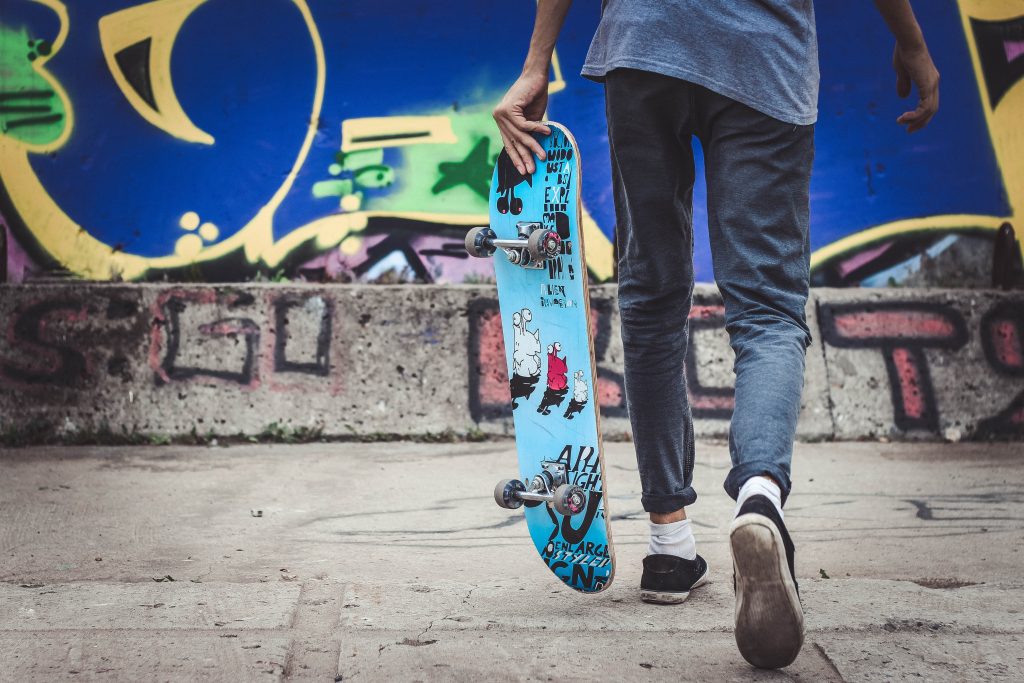 This street style combination is very much unisex. Once more, opt for contrasting colors and wear a black or white long-sleeved T-shirt with an interesting graphic all over it and match it with darker or lighter distressed denim jeans. Accessorize the look with a few unique, statement bracelets and an on-trend baseball cap. Furthermore, bulky sneakers and some eye-catching socks are the perfect options when it comes to footwear. To complete the look, a cross-body bag, such as a utility bag and a puffy bomber jacket are a must. Another way to finish off this look is with an elegant, cross-body chain bag that will add that fantastic touch of clashing styles to your look. To keep you warm in the approaching colder months, simply layer an oversized vintage leather jacket over this effortless, yet amazing outfit.
In the end, enjoy the rising popularity of streetwear by incorporating some cool and trendy pieces into your wardrobe. Wear a total street style look, or mix it with some more casual and elegant pieces and make truly original outfits.