If you just made plans to grab drinks with your friends this evening and have no idea what to wear, this one for you! Luckily, you don't have to dress up like you're going to Met Gala—a casual night out calls a for a casual outfit. So, here are a few ideas that will make you feel comfortable and look stylish.
Work-to-drinks option
If you're planning to grab drinks with your friends from work or meet up with your girlfriends, here's want to do in order to leave that sterile and boring aesthetics in the office. You can easily transform your workwear into a casual night out look by ditching your button-up for a fun lacy top and you're ready to party the night away. Mess up your hair a bit to give it volume and put on a bold-colored lipstick. Fashionable, sophisticated, elegant yet comfortable, midi skirts are huge right now, both in the office and outside! Aside from being very trendy and airy, these skirts are appropriate attire for almost any event from casual nights out to formal dinners. Plus, your look can easily be elevated or toned down with a few tricks. For instance, you can opt for a dress shirt and a wide statement belt for a classy look or bring it down a few notches with a basic T-shirt or a light tank top. Pair the look with classic white sneakers and you'll have a perfect look for all those crazy nights out that involve hours on the dance floor!
Chic elegance
If you're in doubt, choose chic elegance and you'll always look more than appropriate. You can start by picking out a nice pair of high-waisted pants that are super comfortable yet chic. Pair them with some trendy high heels that will give your outfit some contrast and elevate it to a whole other level. With your heels and trousers, you're risking looking a bit too formal, but you can easily change that with a cute crop top and a statement necklace! Finish your look with a badass leather jacket, grab your fave bag and you'll attract all the looks at the bar yet feel very casual and comfy.
Dress up your jeans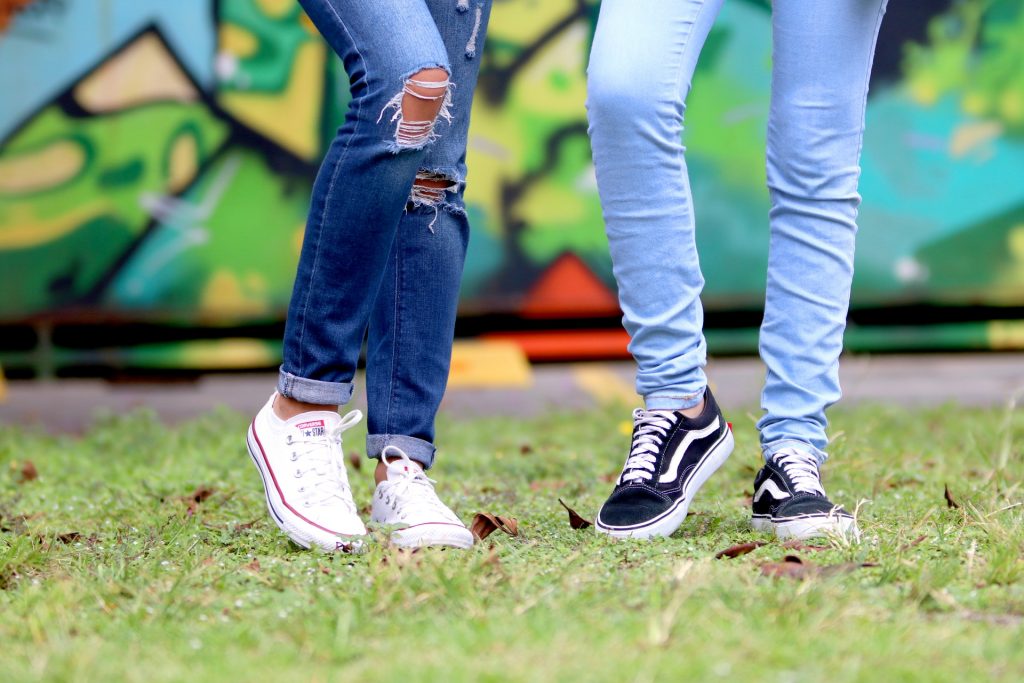 Jeans are a staple of every casual outfit. However, if you want to hit the bars and show off your moves on the dance floor, you need to dress up your denim a bit. Pair your fave jeans with a plain v-neck and take your outfit from boring to bomb with a colorful blazer. A bold pair of earring and eye-catching floral boots will definitely make you stand out and attract all the right kind of attention.
Imitate street style
(Faux) leather is always the right choice for a busy nightclub, even if you just want to grab a few drinks with friends. With leather that grabs all the attention, you can put together a great outfit in 10 minutes. Pair your leather pants with a bold-colored top and pointy heels and you're done!  Are you one of those girls who think hoodies are reserved only for lazy Sundays in front of the TV? Well, you're wrong! Hoodies are cozy, comfy and stylish and you can really wear them to many casual occasions. They do have that extra laid-back vibe, but if you pair a plain hoodie with a pair of sleek trousers and kitten heel mules, you'll look perfectly stylish and fashionable. The smooth and sophisticated look of your trousers and mules will perfectly balance the casualness of your hoodie, especially if you finish your outfit with an accent belt and a designer bag. Street style never looked this elegant!
All of these outfits take 10 minutes to put together, so you'll always be on time for happy hour and be comfy enough to show off your moves on the dance floor!